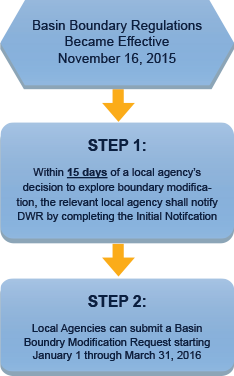 Welcome to the Basin Boundary Modification Request System.  The Sustainable Groundwater Management Act (SGMA) established a process for local agencies to request that the Department of Water Resources (DWR) revise the boundaries of a groundwater basin or subbasin, including the establishment of a new subbasin. This tool is for use by local agencies to request basin boundary modifications and for the public to access basin boundary modification information.
Registration and login are required to submit a basin boundary modification request, but are not required to view submitted information.
The system accepts voluntary basin boundary modification requests from local agencies, pursuant to DWR's Basin Boundary emergency regulation. Additional information is available about the existing Bulletin 118 groundwater basins and an interactive map is available to help visualize the Bulletin 118 groundwater basins and other relevant political, geologic, and geographic boundaries.
Prior to performing a modification request, a printable template is available here to inform you of the items needed to complete the request.
Upon submission, you will receive an email acknowledging receipt of your initial notification or modification request.
For assistance with the Basin Boundary Modification System, please email the administrator at Timothy.Godwin@water.ca.gov.
Public and Interested Party Tools